EuroSPI/EuroAsiaSPI, an international conference series run by ISCN, supports corporate social initiatives which further the development of young people in the fields of innovation and entrepreneurship as well as the arts. The idea is that young people will be the future inventors and that art, especially music, is universally understood and can therefore be seen as a symbol that people can communicate effortlessly with each other across national borders.
INNOTEACH
InnoTEACH (2016 - 2018) was a European project that transferred innovation best practices from industry to the educational sector and resulted in the certification of school teachers. Within the project training materials for teaching innovation in schools were developed and trained and 76 teachers from Slovenia, Hungary, and Austria were trained and certified.
Suporting Innovative Students
"ORG Schulschwestern" in Graz was one of the schools participating in the INNOTEACH project. The school then founded a school branch called WIN (Wirtschaftlichkeit - Innovation – Nachhaltigkeit, engl.: economic competence, innovation, sustainability) based on INNOTEACH and the preceding project Idea2Enterprise (2012 - 2014). Idea2Enterprise developed certificates for students, while INNOTEACH developed certificates for teachers. The ECQA (European Certification and Qualification Association) acts as the certifying organisation.
EuroSPI and ISCN continue to support schools implementing innovation programs, and therefore EuroSPI now supports the 2019 Junior Company of ORG Schulschwestern by buying their innovative product of 2019 as a present for all speakers at the EuroSPI 2019 Conference in Edinburgh in September. The Junior Company's product is a glass bottle with "water" written on it in different languages and therefore is a symbol of transnational understanding and cooperation in research and industry across Europe and other continents.
The photos below show the "Schulschwestern Junior Company" representatives (students) of 2019 as well as their product.

Photos: Paul Regitnig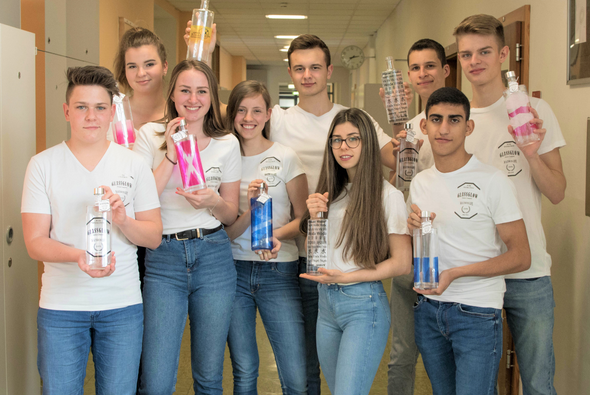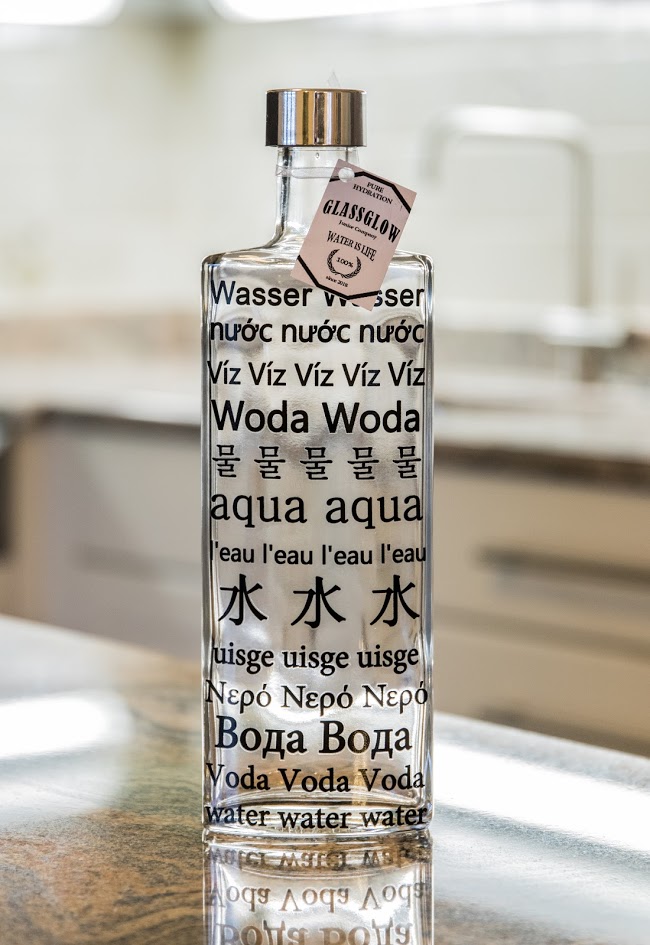 MENTORING Students at KUG
The University of Music and Performing Arts in Graz (Austria), abridged Kunstuni Graz (KUG), is an internationally renowned place of education. There are 17 departments: 1 - Composition, Theory of Music, History of Music, and Conducting; 2 - Piano; 3 - Strings; 4 - Wind and Percussion Instruments; 5 - Music Education; 6 - Church Music and Organ; Institute 7 - Voice, Lied and Oratorio;  8 - Jazz; 9 - Drama; 10 - Opera; 11 - Stage Design; 12- Oberschützen; 13 - Ethnomusicology; 14 - Aesthetics of Music; 15 - Early Music and Performance Practice; 16 - Jazz Research and 17 - Electronic Music and Acoustics. More than 2000 students, approx. 45 percent from abroad, especially from Eastern and South Eastern Europe, foster an intercultural diversity.
For some years now, ISCN is committed to the support of young talents studying at Kunstuni Graz (KUG). One of them is the extraordinary violinist Karol Daniš, who in the following will be presented with his work.
These are the milestones in his career:
At the age of three Karol Daniš studied violin with his father.  At the age of five he became an extraordinary pupil of the Bratislava Conservatory. In 2006 he moved to Prof. Jozef Kopelman at the Conservatory in Bratislava, since 2012 he has been studying at the University of Art in Graz with Prof. Boris Kuschnir. Between 2004 and 2013 he attended international master classes with Jozef Rissin, György Pauk, David Takeno, Lydia Mordkovitch, Julian Rachlin, Krzysztof  Wegrzyn, Thomas Brandis, Ivry Gitlis and took part in several competitions, where he won numerous first prizes, i.e. the "Talents   for   Europe",  at Jaroslav Kocian competition, the international competition of young violinists "Louis Spohr" at Weimar, where he was awarded the special prize for masterful interpretation of the opus "Thème original varié, op. 15" of Henryk Wieniawski. Karol Daniš played chamber music with Benjamin Schmid, Natalie Prishepenko, Thomas Selditz, Petru Iuga, Karl-Heinz Schutz, Christopher Hinterhuber, Milana Chernyavska, Pauline Haas, Sharon Kam, Danjulo Ishizaka, Nils Zönkemeyer, Clemens Hagen and many others.
Daniš played with Orchestras like the the Viennese Chamber Orchestra, the Bohdan Chamber Orchestra, the Czech National Symphony Orchestra, the Janáček Philharmony, the Slovac Philharmony, the Slovac Radio Orchester, the State Orchestra Weimar, the Vogtland Philharmony and the Graz Philharmony.  Beside this, he gave many solo concerts in Slovacia, in Austria, Holland, Slovenia, Italy, Czech Republic, Germany, Russia, Malta and he went for a concert tour of the USA.
In January 2016 Daniš has won at the  Yamaha Contest in Vienna and in June received the first three prizes at an international competition in June at Padova (Italy). His interpretation of the recital at the "Bratislava Music Festivals" was also heard on the radio - in the BBC-program  "Classic Night". At this concert Daniš was playing an original instrument, an ex-Boskovsky Francesco Goffriller 1736 from the collection of the Goh family.