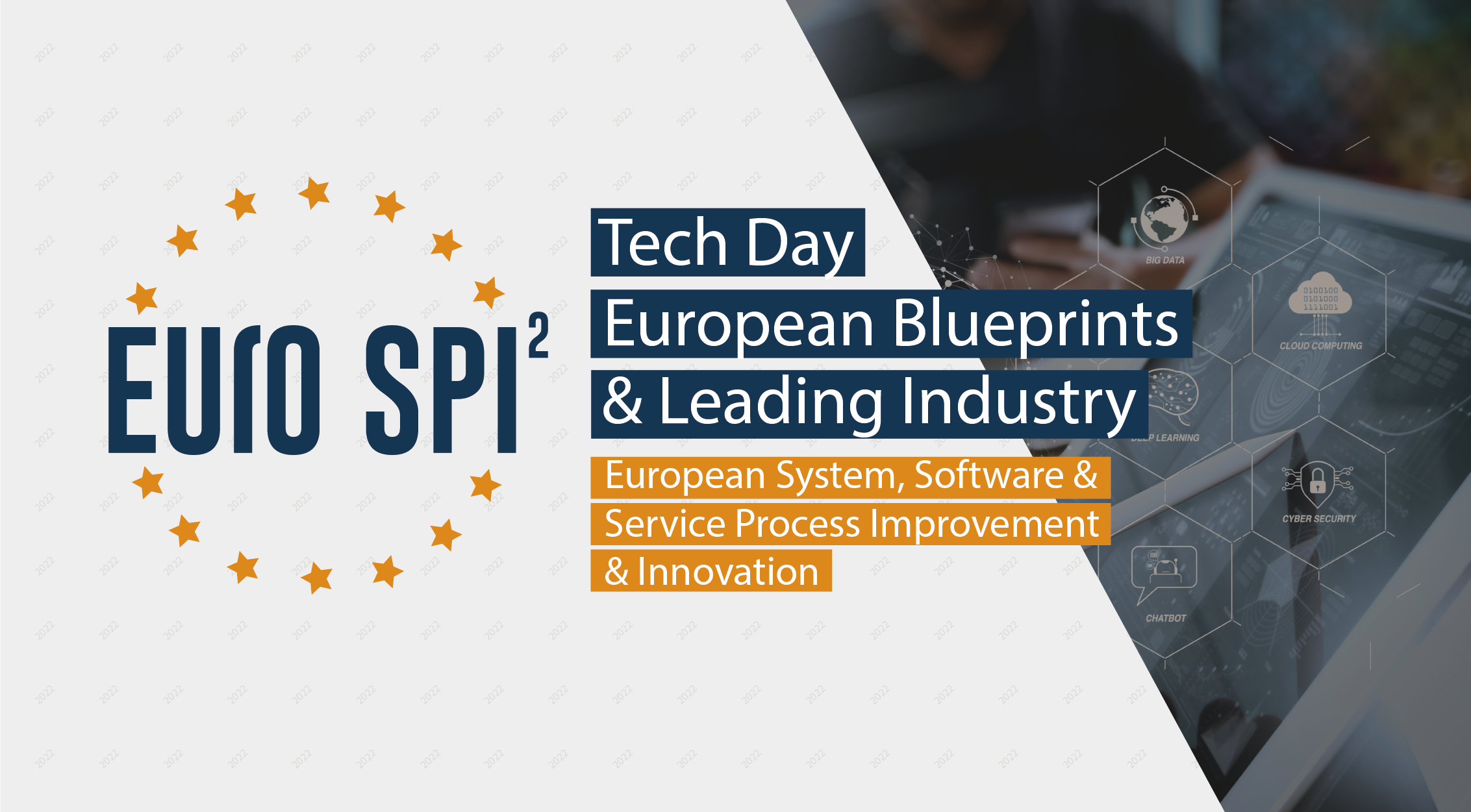 Advanced Assessment and Improvement Methods and Tools
The Tech Day is a pre-event to the EuroSPI² 2023 Conference showcasing new state of the art technology in the field of assessments, benchmarking data and future learning infrastructures. The technology days allow EuroSPI supporting partner organizations to manage their own events in association with EuroSPI and at a date where it is possible for technology day participants to also register and come for EuroSPI. There are key note presentations and content based webinar sessions. Key note sessions are from leading industry or experts, and webinar sessions are presenting and refer to tools for which ISCN can provide test accounts or services.

This email address is being protected from spambots. You need JavaScript enabled to view it.
Free Participation - 28 August 2023
ISCN invites for a free online event. In case of interest send This email address is being protected from spambots. You need JavaScript enabled to view it. (This email address is being protected from spambots. You need JavaScript enabled to view it.). Note: EuroSPI will take place 30 August - 1 September 2023 onsite and online, the tech day as a pre-event on 28 August 2023 will be online only.
The Technology Day Program for 2023 is yet to be announced
To get an impression of the Technology Day you can have a look at last years program below.
Program 2022 
---
08.50 - 09.00
---
Logging in to the event
---
09.00 - 09.25
---
The Automotive Skills Alliance ASA
---
The result of the Blueprint Project for Automotive DRIVES
Peter Dolejsi, ACEA, Belgium, Jakub Stolfa, Director of ASA, TU Ostrava, Czech Republic, Samer Sameh, ASA WG 2.6 coordinator, EuroSPI ASA Representative, VALEO, France and Egypt
DRIVES delivered online
MOOCS
and skills cards for 40 job roles to empower automotive design in the future.
09.25 - 09.40
---
Experiences with the ASPICE for Cybersecurity Assessment Model
---
Damjan Ekert & Dr Richard Messnarz, ISCN

Overview of the iNTACS training and how to use experiences from assessments

09.40 - 09.55
---
The Cybersecurity Engineer and Manager Project
---
We have developed a pool of best practices and training material about how to implement cybersecurity in practice. While the ASPICE for Cybersecurity Assessment Model focuses on the assessment, CYBERENG gives the practical insight into how to develop this.
Svatopluk Stolfa, Jakub Stolfa, Marek Spanyik, Jan Pulcar, TU Ostrava, Czech Republic, Damjan Ekert, Richard Messnarz, ISCN, Austria, Christoph Schnittner, Shaaban Abdelkader, AIT, Austria, Georg Macher, Jürgen Dobaj, Michael Krisper, TU Graz, Austria, Alexander Much, Elektrobit AG, Germany, Andreas Gasch, Cybersecurity Expert, Germany, Alen Salamun, Real Security, Slovenia
CYBERENG
is an EU project which developed a skill card and a baseline for training and state of the art best practices released now in July 2022.
09.55 - 10.10
---
Innovation Assessment - ISO 56000 based assessment development
---
In 2021/2022 the new ISO 56000 innovation standard series was published. In a joint EU project ISCN develops the ISO 56000 innovation assessment method and tool, based on Capability Adviser platform. This will in future professionalize innovation consultancy in Europe using advanced assessment and guidance techniques.

Richard Messnarz, Damjan Ekert, Laura Aschbacher, ISCN, Austria, Mikus Dubickism, Vanda Novoksonova, Adela Vitkovska, Latvijas Kvalitates biedriba, Latvia, Marta Munoz, INSTITUTO DE SOLDADURA, Spain, Lara Ramos, ISQ, Portugal, SOLUCIONES TECNOPROFESIONALES CONSULTING, Spain, Stamatis Tournis, Theodora Dinou, TOURNIS SYMVOULEFTIKI EE, Greece, Geanina Monica Magureanu, AGENTIA PENTRU DEZVOLTARE REGIONALASU MUTENIA, Romania, Olaolu Odeleye, Deloris Mundo Limited, Nigeria
10.25 - 11.00
---
Capability Adviser Updates on Features
---
MA Laura Aschbacher (Design) & Tobias Zehetner (SW Development), ISCN GmbH
The new
You Tube video collection
for Capability Adviser Users, advanced team based report writing features, new assessment models, intelligent VDA Guidelines check, best practices of teamwork of assessor teams, and more
11.00 - 11.10
---
We have discussions & attendees can ask questions
---
11.10 - 11.35
---
Overview about the new ASPICE 4.0 PAM

---
Albrecht Wlokka, Robert BOSCH GmbH, Germany
11.35 - 11.50
---
The EU Blueprint Project about Blockchain Technology and Education
---
Status and results of the project
Dr Andreas Riel, Prof. at Grenoble INP and Senior Expert/Consultant of ISCN
11.50 - 12.05
---
Experiences with integrated ASPICE and ISO 26262 Assessments
---
We have done now integrated ASPICE and safety assessments in electric and hybrid powertrain, on board charger, SEooCs like OS systems, and light systems and share experiences about how such integrated ASPICE and safety reports look like. This originally based on the
SOQRATES
materials and has been further developed.
12.05 - 12.20
---
The new process improvement expert training module from iNTACS - Paper at EuroSPI
---
Presented by Thomas Wegner, ZF Friedrichshafen AG, Germany, on behalf of the team iNTACS Process Experts Training - Improvement Module: Richard Messnarz,ISCN GesmbH, Vesna Djordjevic,Kugler Maag CIE North America Inc., Viktor Gremen,Robert BOSCH Kft, Hungary, Winifred Menezes,Kugler Maag CIE North America Inc., Ahmed Alborae,VALEO, Egypt, Rainer Dreves,SPICE Consulting, Germany, So Norimatsu,JASPIC, Japan, Thomas Wegner,ZF Friedrichshafen AG, Germany, Bernhard Sechser,Process Fellows GmbH, Germany
12.20 - 12.35
---
Data Driven Engineering Process - An ASPICE Compatible Process for Machine Learning in Automated Driving

---
Thomas Geipel, Robert BOSCH Gmbh, member of SOQRATES Group
12.35 - 13.00
---
Wrap Up and Requests for Free Raspberries for Evaluation by Users
---
J.UCS (Journal of Uiversal Computer Science) Issue in Cooperation with EuroAsiaSPI² - Recent Advances in Cybersecurity and Safety Architectures in Automotive, IT, and Connected Services:
We published a special issue in a Q2 rated J.UCS journal, see Scimago rating for computer science section of the journal.
This is an open access journal and you can access the articles from here.
Presentations from 2021:
Presentations from 2020:
Free Electric Powertrain Architecture Training:
ECEPE Taining Plan for the free course 27.9.-1.10.2021. You can also participate on selected units.
Please register your interest for the free training by sending an email  This email address is being protected from spambots. You need JavaScript enabled to view it. (This email address is being protected from spambots. You need JavaScript enabled to view it.). You will then receive an enrollment key to access the course area, plus a link to connect to the course sessions.