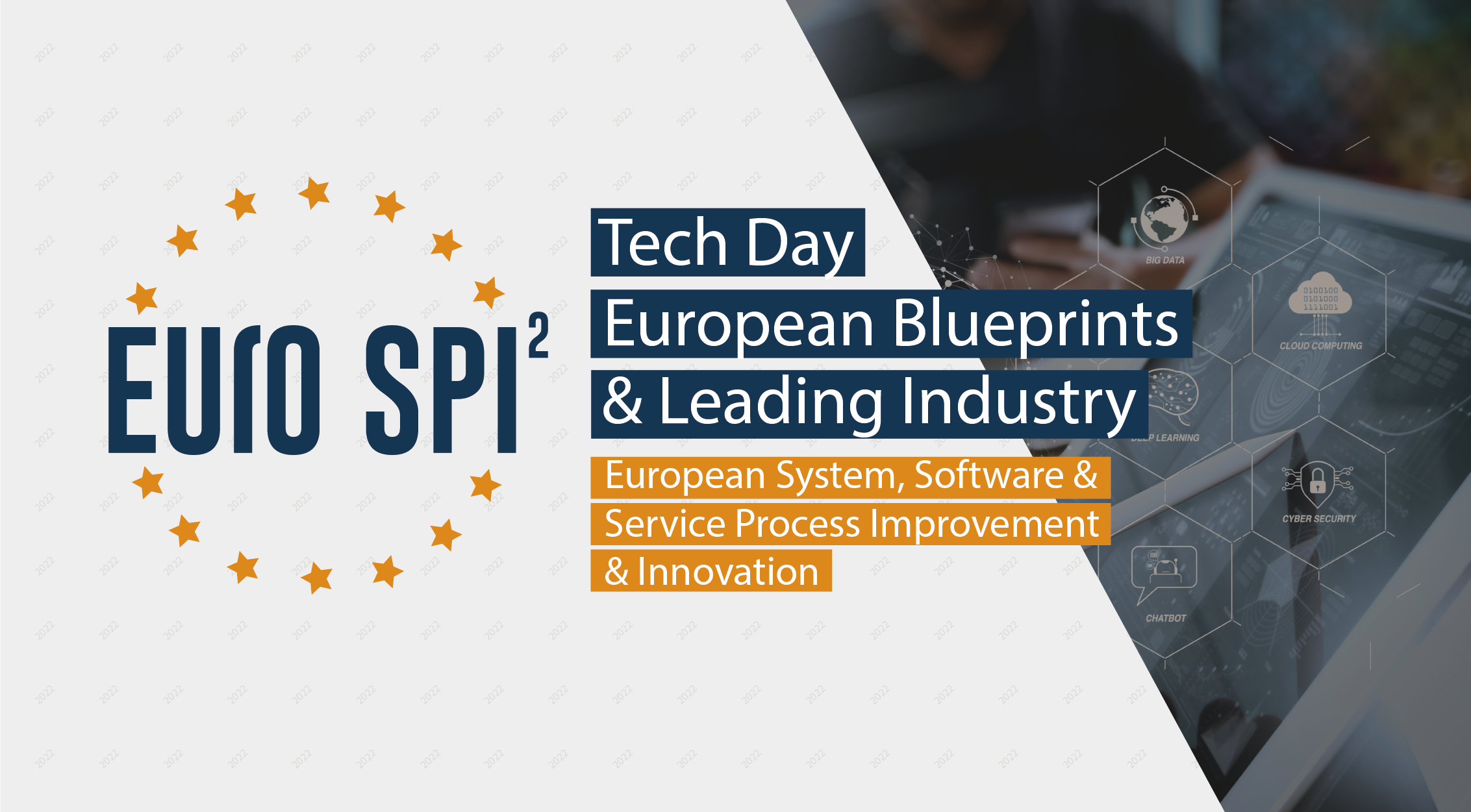 Advanced Assessment and Improvement Methods and Tools
The Tech Day is a pre-event to the EuroSPI² 2023 Conference showcasing new state of the art technology in the field of assessments, benchmarking data and future learning infrastructures. The technology days allow EuroSPI supporting partner organizations to manage their own events in association with EuroSPI and at a date where it is possible for technology day participants to also register and come for EuroSPI. There are key note presentations and content based webinar sessions. Key note sessions are from leading industry or experts, and webinar sessions are presenting and refer to tools for which ISCN can provide test accounts or services.

This email address is being protected from spambots. You need JavaScript enabled to view it.
Free Participation - 28 August 2023
ISCN invites for a free online event. In case of interest send This email address is being protected from spambots. You need JavaScript enabled to view it. (This email address is being protected from spambots. You need JavaScript enabled to view it.). Note: EuroSPI will take place 30 August - 1 September 2023 onsite and online, the tech day as a pre-event on 28 August 2023 will be online only.
Program 2023
---
08.50 - 09.00
---
Logging in to the event
---
09.00 - 09.10
---
Welcome by ISCN
---
09.10 - 09.35
---
Automotive SPICE for Cybersecurity - Introduction to the PAM
---
Dr. Thomas Liedtke, Vector

 
09.35 - 09.55
---
Experiences with the Automotive SPICE for Cybersecurity Assessments
---
Dr. Richard Messnarz, ISCN
09.55 - 10.15
---
Capability Adviser Updates and Features
---
Tobias Danmayr & Laura Aschbarcher, ISCN & EuroSPI GmbH
10.15 - 10.30
---
Coffee Break
---
Karol is an exceptional musician who plays classical music at EuroSPI social events since 2021. You will meet him also at EuroSPI 2023 in Grenoble. He has won at the  Yamaha Contest in Vienna and in June received the first three prizes at an international competition in June at Padova (Italy). His interpretation of the recital at the "Bratislava Music Festivals" was also heard on the radio - in the BBC-program  "Classic Night". At this concert Daniš was playing an original instrument, an ex-Boskovsky Francesco Goffriller 1736 from the collection of the Goh family. Music interpreted by Karol Daniš on youtube:
Brahms Klavier quintet in palace of Meran in Graz.
See his
profile
and use the time to listen to him. Music is the only language understood across nations without conflicts. And you can join at the free life stream
concert at EuroSPI on 31.8.2023 at 20.00
.
10.30 - 10.55
---
Introduction to Automotive SPICE 4.0

---
Albrecht Wlokka, BOSCH
10.55 - 11.05
---
intacs News and Upcoming Training Changes
---
Damjan Ekert, ISCN and intacs Regional Representative
11.05 - 11.25
---
ASA Automotive Skills Alliance and the EU Strategy Project FLAMENCO

---
Dr. Jakub Stolfa, Director ASA, Marek Spanyik, TU Ostrava, Didier Stevens, ASA Manager, EU Expert Adviser, former Senior Manager European and Government Affairs  at Toyota
11.25 - 11.45
---
ISO 56000 Innovation Management System Assessment Model, Tool and Training (TIMS EU Project)
---
Mikus Zelmenis, KVALB, Latvia, Laura Aschbacher, Dr Richard Messnarz, ISCN
11.45 - 12.05
---
The Process Improvement Training - Part of the iNTACS Process Expert Training

---
Thomas Wegner, ZF Friedrichshafen AG, Germany
12.05 - 12.25
---
Using Assessment Systems for Benchmarking and Lessons Learned
---
Mary Roselind Michael, Forvia
12.25 - 12.45
---
Experiences with Assessments with Process Instances - Lessons Learned with Capadv
---
Prof. Dr Andreas Riel, Grenoble INP & ISCN Group, Dr Richard Messnarz, ISCN
12.35 - 13.00
---
Wrap Up and Requests for Free Raspberries for Evaluation by Users
---
J.UCS (Journal of Uiversal Computer Science) Issue in Cooperation with EuroAsiaSPI² - Recent Advances in Cybersecurity and Safety Architectures in Automotive, IT, and Connected Services:
We published a special issue in a Q2 rated J.UCS journal, see Scimago rating for computer science section of the journal.
This is an open access journal and you can access the articles from here.
Presentations from 2021:
Presentations from 2020: