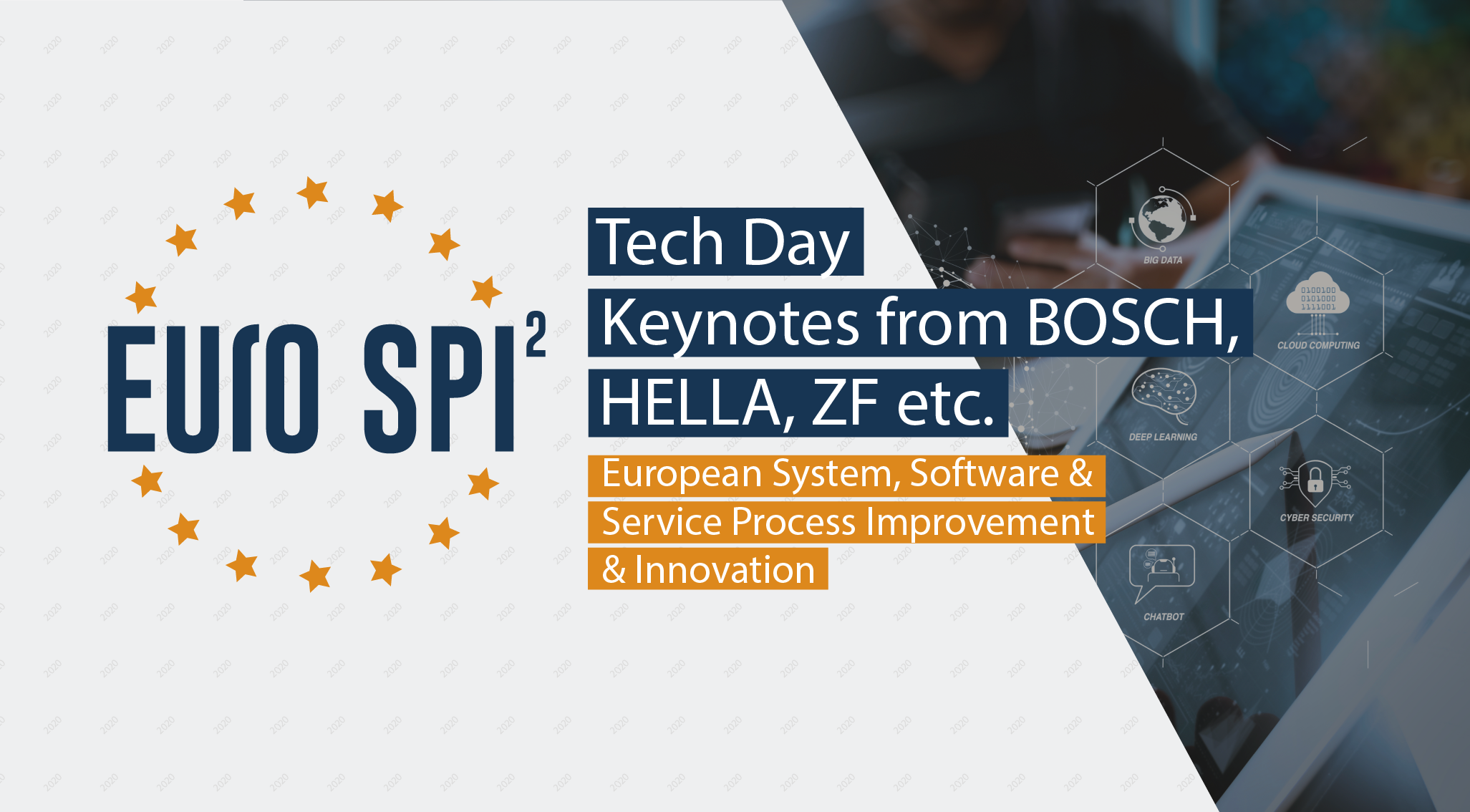 Advanced Assessment and Improvement Methods and Tools
The Tech Day is a pre-event to the EuroSPI² 2022 Conference showcasing new state of the art technology in the field of assessments, benchmarking data and future learning infrastructures. The technology days allow EuroSPI supporting partner organizations to manage their own events in association with EuroSPI and at a date where it is possible for technology day participants to also register and come for EuroSPI. There are key note presentations and content based webinar sessions. Key note sessions are from leading industry or experts, and webinar sessions are presenting and refer to tools for which ISCN can provide test accounts or services.

This email address is being protected from spambots. You need JavaScript enabled to view it.
Free Participation
ISCN invites for a free online event. In case of interest send This email address is being protected from spambots. You need JavaScript enabled to view it. (This email address is being protected from spambots. You need JavaScript enabled to view it.). Note: EuroSPI will take place 1.-3.9.2021 onsite and online, the tech day as a pre-event will be online only.
Program for 2021
08.50 - 09.00
Logging in to the event
09.00 - 09.25
Key Note 20 mins presentation + 5 mins. questions:
The new ASPICE for Cybersecurity Assessment Model
Albrecht Wlokka, Robert Bosch GmbH, Germany
09.25 - 09.40
First Experiences with Assessments Applying ASPICE for Cybersecurity
  Dr Richard Messnarz, ISCN
ISCN will show examples of cybersecurity work products,
SOQRATES
developed a set of best practices to share
09.40 - 09.55
The EU Blueprint for Automotive DRIVES MOOC Learning Platform
, Dipl. Ing. Damjan Ekert, ISCN GmbH
DRIVES
is an EU Blueprint that developed the skills for 40 job roles for the new generation of automotive engineering with a vision towards the 2030 strategic agenda.
09.55 - 10.10
The EuroSPI Certifed Cybersecurity Engineer

Jakub Stolfa, TUO & ISCN Group, Czech Republic, Christoph Schmittner, AIT, Austria
SOQRATES
developed a course which was then applied in major Tier 1 and meanwhile an EU project cybersecurity engineer continues to develop
this education. EU project cybersecurity engineer (Cybersecurity Engineer and Manager – Automotive Sector, Agreement No. 078494).
10.10 - 10.25
Break - classical music from Austria
Karol Danis - a price winning musician
- EuroSPI supports Karol, You can also sponsor Karol to be able to finance a historic violin design.

Use the mobile, use the camera and scan and follow the link:



Download his details and sponsorhsip options 
here
10.25 - 11.00
Capability Adviser Product Portfolio and main Features - Outlook to 8.3 and 9 BA Laura Aschbacher (Design) & Tobias Zehetner (SW Development), ISCN GmbH

Raspberry PI, Cloud, Laptop Solution, Server Solution Models: ASPICE 3.1 and VDA Guidelines, ASPICE and Cybersecurity, HW SPICE, Mechanical SPICE, Importing different PAMs
11.00 - 11.10
We have discussions & attendees can ask questions
11.10 - 11.35
Key Note 20 mins presentation + 5 mins. questions:
Experiences with safety assessments and safety case design  - what can go wrong and hints to do it right
Frank König, ZF Friedrichshafen AG, Germany
11.35 - 11.50
Experience Report from Recent Combined Assessments: ASPICE 3.1 + ISO 26262:
Dr Richard Messnarz, ISCN
11.50 - 12.05
The EuroSPI Certified Electric Powertrain Engineer - understanding the new electric concepts: Dr S. Stolfa, TUO & ISCN Group, Czech Republic, Dr Georg Macher TU Graz & ISCN Group

Nowadays engineers need retraining and aslo assessors need a basic understanding when they assess an electric powertrain project.
12.05 - 12.30
Key Note 20 mins presentation + 5 mins. questions:
Do's und Don'ts für Assessments
Thomas Wegner, ZF Friedrichshafen AG, Germany
12.30 - 13.00
Wrap Up and Requests for Free Raspberries for Evaluation by Users
J.UCS (Journal of Uiversal Computer Science) Issue in Cooperation with EuroAsiaSPI² - Recent Advances in Cybersecurity and Safety Architectures in Automotive, IT, and Connected Services:
We published a special issue in a Q2 rated J.UCS journal, see Scimago rating for computer science section of the journal.
This is an open access journal and you can access the articles from here.
Presentations from 2021:
Presentations from 2020:
Free Electric Powertrain Architecture Training:
ECEPE Taining Plan for the free course 27.9.-1.10.2021. You can also participate on selected units.
Please register your interest for the free training by sending an email  This email address is being protected from spambots. You need JavaScript enabled to view it. (This email address is being protected from spambots. You need JavaScript enabled to view it.). You will then receive an enrollment key to access the course area, plus a link to connect to the course sessions.