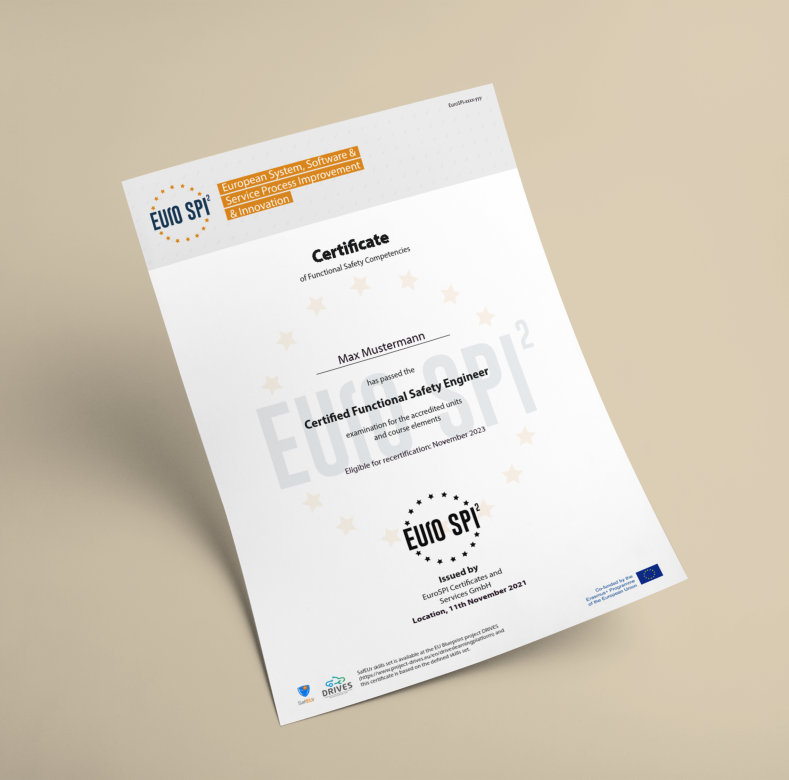 EuroSPI² Certificates & Services GmbH (EuroSPI²)
The EuroSPI² conference series (and book series) has been formed 1994 as a leading conference in the area of System, Software, Services Process and Product Improvement and innovation with contributions from leading industry and leading research. SOQRATES as working group of leading German and Austrian industry started in 2003 and is moderated by the chair of EuroSPI since 2003 and the working group contributes to the thematic workshops organized at EuroSPI, to define state of the art in system design, safety and cybersecurity, assessments, quality management, agile processes, standards, etc. The EuroSPI academy started in 2020 (based on the EU Blueprint project DRIVES concept of a learning compass for European automotive industry) and within a year has many hundred trained, and on DRIVES learning portal we have more than 2000 MOOC trainees. The exam systems originally developed to support ECQA are now adapted and integrated to support Europe wide certification and exams systems under the EuroSPI Certificates & Services GesmbH. We now bundle this to a European initiative under one umbrella and move all teams and services behind this aggregated bundled European strategy.
EuroSPI² use proven in use exam systems and cooperates with DRIVES and ASA and supports the skills sets defined in the DRIVES learning systems.
Top 10 reasons to be certified by EuroSPI² and become part of the community:
1) 29 years of European system software services improvement
EuroSPI brings together an established community of experts from leading industry and research, who jointly contribute to an annual conference.
2) EuroSPI certificates are recognised by the Automotive Skills Alliance (ASA) in the EU
EuroSPI certificates are issued by EuroSPI Certificates & Services GmbH (www.eurospi.net) in cooperation with DRIVES and the Automotive Skills Alliance (ASA). The ASA was founded by the EU Blueprint Project Drives and ALBATTS with support from the European Automobile Manufacturers' Association (ACEA).
3) EuroSPI Academy with hundreds of attendees
EuroSPI runs the DRIVES Learn Compass Portal, where more than two thousand engineers from the leading automotive industry are attending MOOCs. EuroSPI has been running the EuroSPI Academy since November 2020 attracting hundreds of trainees within one year.
4) Proven-in-use exam system with more than 12,000 exams
EuroSPI employs a proven-in-use exam system , that has been used for over twelve thousand exams with different certifiers and will be used exclusively by EuroSPI Certificates and Services in the future.
5) EuroSPI offers networking options towards European cooperation
EuroSPI organizes annual workshops on thematic topics (e.g. safety, cybersecurity etc.), to which leading researchers and industries are contributing. Training course participants and examinees are granted a 20% price reduction.
6) Worldwide dissemination (>500000)
EuroSPI has established collaborations with publishers and launched a renowned book series at SPRINGER CCIS with more than half a million downloads. The CCIS editorial team includes experts from Europe, the USA, China, Japan, Russia, India, and South America.
7) Best practices elaboration in European working groups
The knowledge taught in the EuroSPI Academy courses was developed in working parties (e.g. SOQRATES) including leading industry in the electronics and automotive domains.
8) Top-level infrastructure for EuroSPI Academy courses
EuroSPI Academy courses are set up within state-of-the-art learning portals, using exercise materials, templates, and tools to support learning by doing.
9) Number #1 assessment tool Capability Adviser
EuroSPI owns, sells, and uses the Capability Adviser tool, which enables (online) team assessment for different norms (e.g., Automotive SPICE, ASPICE etc.) and can be configured for in-house standards. Leading Tier 1 and Tier 2 automotive companies are using the Capability Adviser.
10) Assessments of experts' skills supported by the EuroSPI exam system
EuroSPI has an advanced exam system, using team roles, such as Assessor and Exam Participant to support assessors who evaluate expert skills based on provided evidences in different domains (e.g. functional safety, cybersecurity etc.). Where high risk is involved a simple multiple-choice test is not sufficient.
What is EuroSPI² Certiffication?
EuroSPI² applies defined certification and exam processes.
Skills set: For each new job role a defined set of skills and learning outcomes are described in form of a skills tree (skills set definition). EuroSPI² provides templates and certification rules for that.
Certification of a training material: EuroSPI² certifies training material to cover a defined skills set for a given job role. Training bodies across Europe can use their own training material as long as they cover all learning outcomes of the skills set.
Evidence based skills assessment: EuroSPI² provides an infrastructure to register as a learner, to upload evidences from work experiences and link that to specific skills elements and learning outcomes. Assessors log into the system and assess the uploaded evidences. In case of a positive assessment a certificate is given.
Computer based exams: EuroSPI² configures multiple choice tests per job role and exams can be organised. In case of a positive exam a certificate is given.
Certified trainer: EuroSPI² provides trainer certification. Experiences in the area of the skills set and job references are required and trainers get listed.
Certified training body: EuroSPI² lists training bodies who have qualified trainers to offer courses for the skills sets.
Working groups: EuroSPI² supports ASA to set up European committees for specific skills set clusters. e.g. Automotive standards, Automotive functional safety, Automotive cybersecurity and CSMS, etc.
How to Collaborate with EuroSPI²
Participate at the EuroSPI² conference.
Attend courses in the EuroSPI² academy.
Become a EuroSPI² certified trainer.
Become a EuroSPI² certified training body with your organisation.
Attend a EuroSPI² exam to receive a certificate.
Publish and discuss your experiences at the EuroSPI² workshops.
Contribute and help us building the house of EuroSPI² to empower knowledge transfer within and with Europe.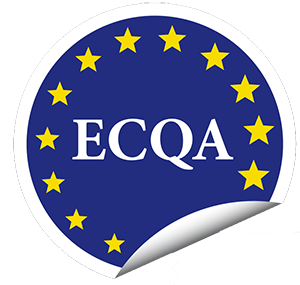 ECQA (European Certification and Qualification Association)
ECQA certificates are issued by ECQA GmbH. ECQA certificates meet the need for new and emerging professions and job roles, where no or only very heterogenous training is available. Accessibility professionals, for example, usually do not have diploma or any official recognition. But they do a great job as Digital Accessibility Educators, as Life Text Subtitlers, as Diversity Managers, as Easy-to-Read Validators and Facilitators, etc. At ECQA, these professionals can obtain international, European certificates, for the first time confirming that they are experts in the field they are working in. This increases awareness for and visibility of their professions, and gives value to their important work. 
 The ECQA also supports the need of industry for skilled workers. The need of fast-changing knowledge and skills has to be constantly supported and monitored, and requires new trainings and certifications. This can only be achieved by experts of the field working together with industry to fulfil the needs and demands here. Because of this the ECQA supports these communities as Focus groups for different pillars of expertise. ECQA Focus groups invite recognized experts from industry and academia, including in particular certificate holders to discuss and shape the future in their fields. 
 Currently, the ECQA Certificates, certified trainings and Focus Groups can be clustered around three main topics:
| | |
| --- | --- |
| Accessibility | Blockchain and distributed ledger technologies |
| Cultural heritage | Innovation |
| IoT | Project and Process management |
| Sustainability and Eco-design | Terminology |
Here international Experts are currently working in their communities and are supported by Focus Groups to constantly shape the future outcomes within these topics.
The ECQA Focus groups are often wide enough for several specialized topics to be included, as many of these topics have contact points or overlap, and by this enhance the discussions and decisions. Some of these topics, such as Accessibility Professionals, Terminology Managers in Engineering Environments, or Blockchain Experts, also are addressed in Automotive disciplines. 
Trainings that focus on automotive disciplines and certifications for these are handled by the EuroSPI GmbH and are fully supported by the ECQA and the ECQA GmbH. "